Look up to the southwestern sky around twilight....
Last evening (Thanksgiving) Jupiter and Venus began moving closer so that by Sunday/Monday, they will appear right next to eachother. On Monday night, they will be joined by the crescent moon...
The three celestial objects come together from time to time, but often they are too close to the sun. The next time the three will be as close and visible as they are this week will be in 2052. Venus and the moon will be rejoined on New Year's eve this year, though.
I am out at Neil's Addam's family mansion for a week, with hopes for a snow storm while I visit, just a little winter to take me through to the new year. In LA, an east coast girl can get bit tired of sunny & 70*. Last night at Quiche's Spooky House, we had a punk rock Thanksgiving. Vegetable soup from the big garden with oven-toasted crusty bread. Dessert was an oddly perfect tombstone cake, which Q calls "The Death Cake". I loved this Thanksgiving, even though I wasn't with my cute little parents.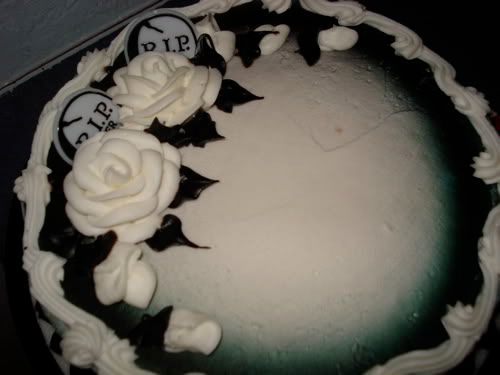 I am bringing Batman home a fellow crime fighter, miss Selina Kyle:
(she looks as if she is part screech owl in this photo)
This week we have a to-do list a mile long, but it will include a drive to Chicago to see Miss Amanda Palmer play a show and to pick up Q's newest Bengal cat additions. I will also attempt to get over my age-old fear of horses, whether I was kicked to death or rode one into battle to the end, I am not sure. More in the next report from the magic midwest. FIngers crossed for snow...and now we are going for just a quantum of solace, no more, no less...a little sad about a connery-less bond, but needs must....