Travel has kept me from my mailbox duties, and so now playing some major catch-up.
I have been home for about ten days, prepping Neil's fan mail and getting as much answered as possible before we go back out on the road.
The year started in Boston & Minneapolis with Neil, helping out on the Calendar of Tales project. It is finished now & you can download it HERE. now the mailbox...
look at these bad ass Doctor Who stamps, from our dear Marj in the UK. (man, have the recent statement re: Matt Smith has filled up my inbox with questions/rumors/wishes...)
Neil was in LA recently for the Coraline event at the Capetown Film Festival. He and Travis Knight of Laika had a Q&A after the screening. I do love going to these gold mines of information... We met with Laura Gross after the screening, she did the DVD extras on Coraline, and a couple of days later, Paranorman blu-rays showed up in the mailbox, one for me too--such a lucky kitty. Thanks Laura!
this came from a high school teacher named Michael in Wisconsin, who has been teaching his class from the SANDMAN texts, one of his talented students beaded this for Boss. i LOVE it!
Neil gets many letters from school kids reading his books. Some of them are hilarious, some with very gravely given advice. This is a snippet from an unnamed third grader, looks like we have a future copy-editor here:
this young letter-writer asked NG a serious question on what to do when faced with life choices, and he gives a thoughtful reply:
Neil takes a minute in his beachfront hotel to look at an astounding book that arrived, TOME, a big BIG book on vampirism, in which Neil interviews our enchanted Kambriel. To learn more about this book, go HERE.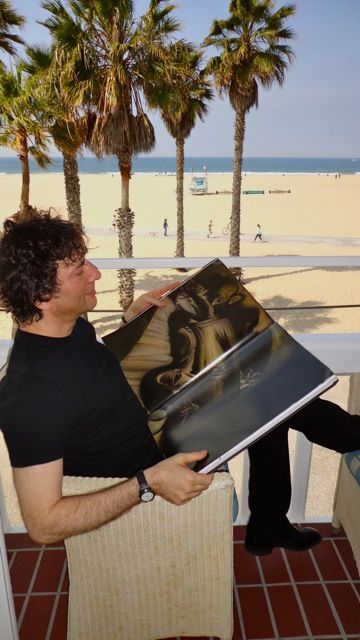 EEK!
He also signed a new batch of SAUCERS, the print by Jouni Koponen, Finnish wonderkid. get them HERE.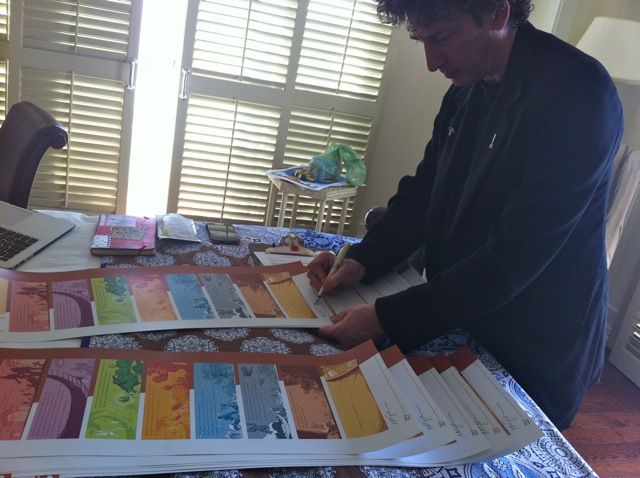 this also came in from my favorite four hour hot shot, Tim Ferriss, for a Neil favor we did for him, thank you to my model Drew for holding it up:
this made my analog heart skip a beat,an actual card from a card catalog, sent from a librarian for Neil to sign and then they will put on their wall of fame. (you kids today, you don't even know how fun it was to flip through these monsters)
I spent this week making a batch of my salvaged comic book magnets, they are mental health cures, one of my favorite ways to "make good art" and blow off stress. It's been a busy year and details are always unraveling, art is a cure.
"Stop that!"
for the backs, i use all recycled materials: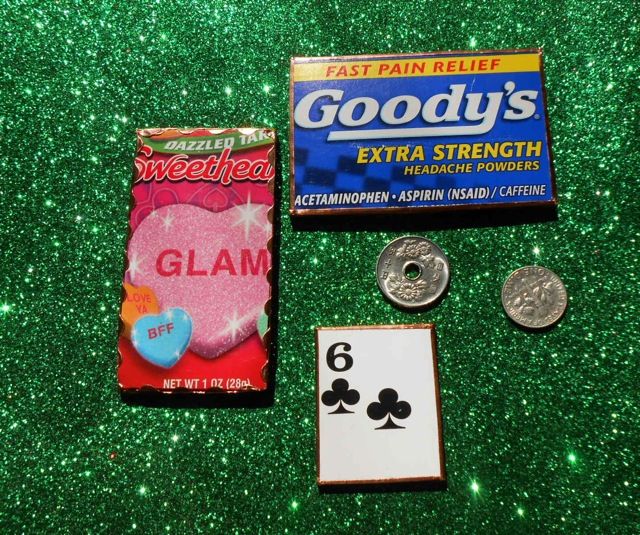 to see more of my glitter comic book magnets, go here. so! there's more, but i'll start wrapping this up, tour manager duties call. June 18th release date draws closer...
i have been working on his itinerary, here's a screenshot of the calendar page:
Even though I have been touring all of this year, they have been fly dates. The first time I will ride a tour bus will be with my author boss, a fast and furious zip across America.
here is our tour schedule for his upcoming THE OCEAN AT THE END OF THE LANE last signing tour: CLICK FOR DATES.
hope to see you out there! ps. two blogs in one day, what the...but I finally posted about my recent trip to Japan with Slipknot. here is a photo from the giant 7 floor department store in Shibuya: