another day of hotel rooms and people packed in to roundtables, all clamoring for the attention of the creatives.
lots of tape recorders thrown across the table to sit right under the speaking gentleman.
let's not forget the banks of microphones!
this time I sat on the plushy chair provided (no bathtubs available?)
and watched, listened, learned as thoughts were verbally batted around in the air.
Neil was asked many questions on the themes of what he felt stop-motion lent to a story like CORALINE and why he chose Henry as director. He explained that when he saw NIGHTMARE BEFORE CHRISTMAS he noticed (like so many others might not have) that while it said "Tim Burton's NBC", it was directed by Henry Selick. After he finished writing CORALINE, years and years ago, he asked his agent to get it to Henry first because he believed that he had the vision to bring it to the screen.
When the option ran out, Neil even did the unspeakable in Hollywood, which was to extend Henry's option for free based on NEil's faith in him. (the Hollywood reporters practically stood up and cheered on that one, it really was a beautiful thing to do, rather than yank it away because by that time, there was plenty of big studio interest in it)
The allure of stop-motion versus the machinery of CGI was that it was real, Neil went on to outline a perfectly charming story of a conversation with a set carpenter, who had been involved in building the pirate ship for STARDUST for two months that was slated to be scrapped after filming, and Neil was apologetic. The carp then replied to the effect of "No, man! If it weren't for you, we'd be building shelves."
Another reporter asked if Neil was considering any other of his stories for animated film versions, he said that ODD AND THE FROST GIANTS (one of my personal favorites)
would be a good candidate. Also, he was very clear about GRAVEYARD BOOK being live action. When I heard announced (on the Today show, no less) that Neil "THE COMPANY OF WOLVES" Jordan was slated to helm it, I cried a wee Irish tear of joy.
I remember going to see WOLVES in the theatre on a date, and I couldn't talk after, was so moved, most especially by the little doll crying in the birds' nest... and a naked Danielle Dax! (needless to say, the date went south)
Of course, talk moved over to the Sandman-as-movie subject, many of the reporters wanted to talk about
what may happen in this film climate of graphic novel mania. Neil said (and wisely so)
the way he saw it, things may happen if a director came along that had the mad passion for the project like Peter Jackson had for LORD OF THE RINGS.
Afer each roundtable, the reporters whipped out their books etc to have Neil sign, which he graciously did.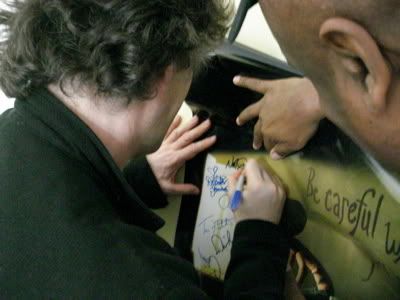 and he even signed for non-reporters as well: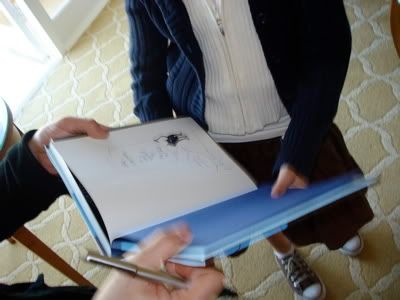 we watched as the sun went down over the city of Los Angeles and finally everyone went home and our poor hero got some food and sleep.
Next up is his Canada run,
one I am not going to be there for, sadly, as the schedule looks like a serious nightmare.
I will put a super-duper shield on him before his plane whisks him away.
Next stop for me, Portland. I will post a little youtube movie shortly, but for now, I have a batch of fan mail for him to sign (yes REALLY!)
Words to end this, Neil did say that CORALINE was a story about bravery and a lesson that children may follow the rest of their lives in that it shows that you CAN fight big things and win. We can all stand by that.