They used to say at the Oscars, "and the Oscar goes to.."
and this year they reverted back to, "and THE WINNER IS..."


well I have to say, THE WINNERS ARE...
because I can't choose.


Neil said to me cheerily, "Kitty, you are on your own.."
No help there.

The Fabulous Lorraine, well, Quichie is a woman decided, let's just say...
never any confusion about what SHE is thinking...

another reason to love that girl.


i tallied the votes on the blog and in the Neverwear email....
hmmmmmm.....

WE HAVE EIGHT WINNERS.


by Jenny Robins:





by Chris Lincoln:





by Joey Lee:




by M.C. Matz:




by WonderBink:




by Jouni Koponen:




by Jess:





and by Wai-Jing Tsang:





(i loved all the others as well, esp. Danny Dillen & DH's (Daria Hlazatova)--really beautiful work)


I want to make sets of eight -count-em-EIGHT CABAL POSTCARDS.
These eight artists will be featured (that is, if they agree to a one-time license use, they will still own their original art).

My plan is to print a limited edition set run of 220...

each of the winners will get complimentary sets,
and the WINNER-WITH-THE-MOST-VOTES: WONDERBINK gets the signed-by-Neil HOW TO TALK TO GIRLS AT PARTIES print.


Jouni, came in 2nd, by the way! who can resist a talented Viking from Finland, his design will go to decorate the
soon-to-be-announced Cabal doggy bags, totally green biodegradable dog bags...the profits of which will go to benefit
the Society for the Prevention of Cruelty to Animals


This is where i got my dear Batman, who after five years of blanketed love on him, he is finally coming out of whatever trauma befell him.
Cabal was rescued from an abusive situation by our hero Neil. The Fabulous Lorraine has been an unwavering supporters of animals in need since we all were just tiny kittens.

These doggy waste-pick-up bags won't be expensive, but they will help the Earth by biodegrading quickly and the donations will help animals to find the kind homes they so deserve.

please stay tuned for more details as I speak to the artists, but there, you have the results...


meanwhile 2 new sticker designs are up on Neverwear.net.

"DREAM DANGEROUSLY"

"CATS DON"T NEED NAMES" from Coraline.



a reminder, the Anansi Boys heather grey tees are only $15.00 each and I have sizes small, medium, large & x-large left.

here is magician Crow Garrett wearing his...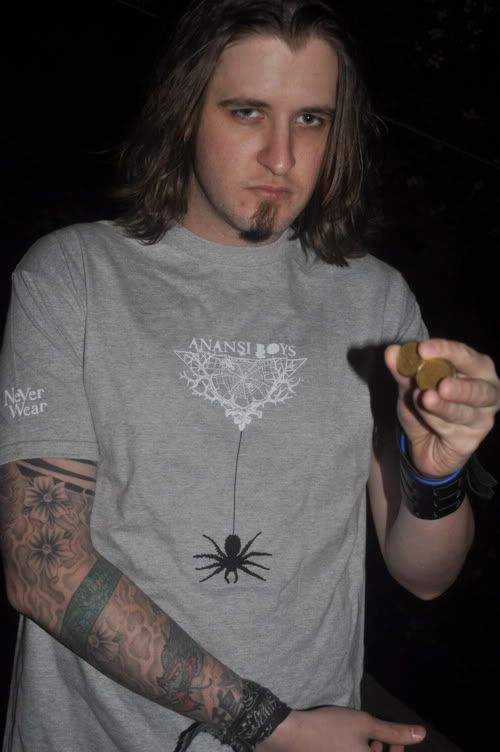 and finally, I am trying to get more Vikings to come to America....

HELP BRING THE AMAZING JOUNI KOPONEN OUT TO
THE AMERICAN GODS HALLOWEEN HOUSE ON THE ROCK EVENT.

The artist behind the wildly successful print of SAUCERS lives in Finland,
and I am trying to get him out here for this event.
For a ten dollar donation, you, generous donor will get a limited edition 4" x 10" sticker made up from the SAUCERS print artwork.

CLICK HERE FOR JOUNI SAUCER STICKER/DONATION
If we get Jouni to come to this can't-miss event, he WILL sign it for you...

I am completely OUT of the SAUCERS print and so I am starting the donations with $500 toward his ticket.


ten bucks can make a difference!! (and you can donate more, should ye be feelin' rich, each tenner will get a sticker...)


All the way from Finland, the smokin' hot Jouni Koponen illustrates Neil's poem: "The Day the Saucers Came" --- a personal favorite of ours here at Neverwear.




now! back to my laboratory.