when i announced a contest for this handmade reycled Batman magnet,
i opened a floodgate of response...
unleashed a torrent of glittery twitters...
should not have been surprised, but i was.
and then i looked in my spam folder, after i thought i was done viewing all the entries,
and there were more...and more and even...more.
and so many of them were good.
I sent several on to Neil. He laughed and used some choice blue language to show his delight.
our Newbery Medalist, with every word in the English language at his ready command, swearing like a sailor....in all caps, to boot.
so...how to judge this contest?
(many of you pleaded to win, seems you like that magnet)
We pulled out the ideas that stood out as shirts I could see in my mind.
i am going to detail the finalists here,
and let you all decide:
lots of you love the green bowler from ANANSI BOYS.
many spider God ideas...
Demeter's Child asked for the words to the
Macabray
on a shirt, illustrated with some of the white flowers that are being passed around in the GRAVEYARD BOOK.
Andrew made this very stark & clean suggestion:
"A simple, foreboding quote: "FEAR IS A WEAPON OF THE SLEER.""
*******he also asked for Neil's original and un-edited Newbery winner tweet on a tee.
(you'll just have to google it...)
John suggests a Coraline tee, with the words to the rat song::
(perhaps illustrated with one of Neil's doodly rats)
We are small but we are many
We are many, we are small
We were here before you rose
We will be here when you fall.

another Coraline tee thought up by Katie:
"The mice have a message for you."
"The Fan's Belief" submitted by Scott made Neil laugh:
great idea from Veronica:
. On the front, Cats don't need names.
And on the back, We know who we are.
(I want one of these myself, Veronica!)
Ben writes in:
I know I've always wanted a shirt with
Richard Mayhew's back as he's drawing that final door on the London wall
. Also, a
Croup and Vandemar
would be awesome. (perhaps with the caption, some of us are SO SHARP… we could just CUT ourselves.)
the ever-lovely Oona/Oz suggestes a quote from Neverwhere's Hunter:
In human years I am
"as old as my tongue and slightly older than my teeth"
Norm sent this great bumpersticker idea (would work on a tee as well:
This one is fresh from Neil's tweet last night.
"Dream dangerously."

we got several (SEVERAL!) requests for an OLD SHOGGOTH's label/pintglass/teeshirt.
you really love this idea. only Ethan went the distance and drew one: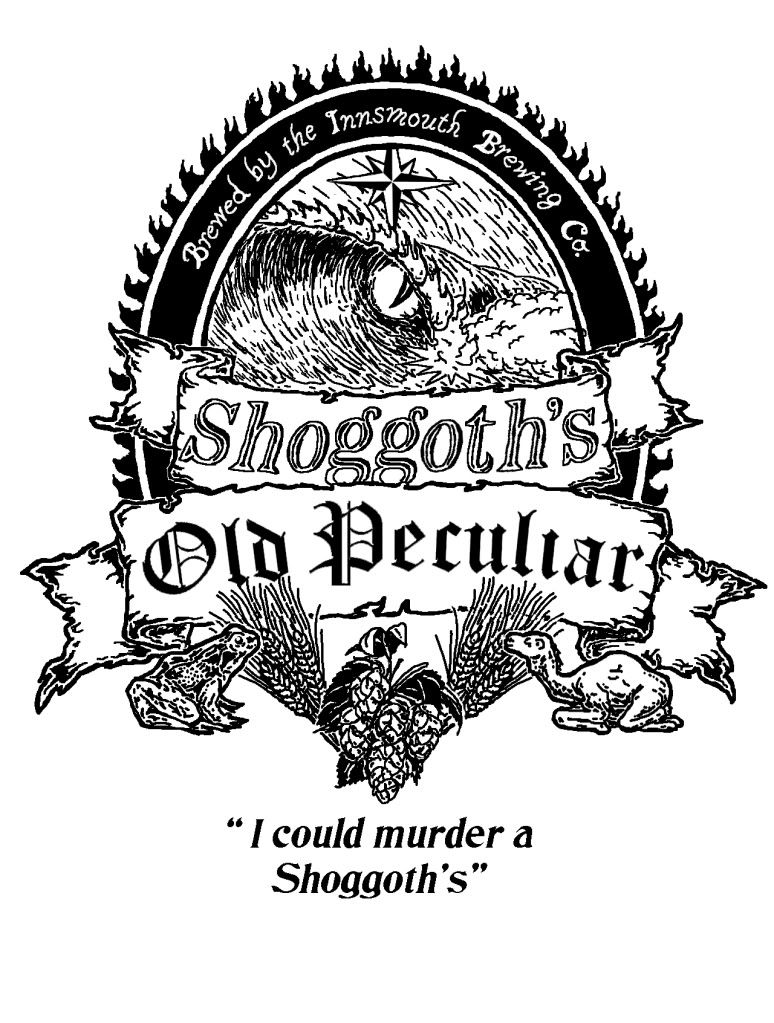 thank you, Foz, for this:
You can't make an omlette without killing a few people.
(quote paraphrased from Neverwhere)
a gorgeous little drawing from Elise:
Lauri's idea? a simple declaration from Stardust:
"I've been through the wall"
while on that topic, Katie and many others asked for this:

"Have been unavoidably detained by the world..."
Ruth sent in this visual inspired by THE GRAVEYARD BOOK:
a grey shirt, tomb stones print all over it and right over the right breast
(pocket) leaning against a stone is "Bod". here and there, little ghosts of
the "residents": kind of like a shirt map?
Rachel wants to see this printed on cotton:
"Everybody has a secret world inside of them. All of the people in the whole world. I mean everybody. No matter how dull and boring they are on the outside. Inside they've all got unimaginable, magnificent, wonderful, stupid, amazing, worlds. Not just one world. Hundreds of them. Thousands, maybe."
Meg wants to see a
"Snow, Glass, Apples"
design.. in fact, many mentions for this one. We do have plans for a future print...
Teresa, you picked my favorite HOW TO TALK TO GIRLS AT PARTIES line:
"You wouldn't want to make a universe angry."
Evelyn sent us this zinger:
I only consume one food, and it is not bananas
. <--For those bloodsuckers who despise Twilight.
BillyBones suggests this:
London tube sign that says London Underneath, or a gothic version of the tube map with Neverwhere locations.
(me: will have to check on copyright infringement, but like it!)
RYAN has this beautiful idea:
I still would love to see a fading Cantrip shirt. The text from The Witch's Headstone chapter of the Graveyard book. You know, the spell that she uses to help Bod fade when he's in the back of the pawn shop.
the ever-lucid @PERGAMOND:
i would buy a "slaughtered prince" pub t-shirt in a heartbeat.
Ryan @Jesteram, whom i swear I do not know personally, he just is full of grande ideas, suggested two ideas:
1. b
lood-spattered text: "We Can Get Them For You Wholesale" .
and
2.
How about a shirt with a playing-card jack on it and the names of all the Jacks from the Graveyard Book? I love how Neil tends to have a secret society in just about all his books ...
Nikki also thought of a Jack's tee, but the day after Ryan. Good call, Nikki.
Lara sent me this, which i love, from The White Road :
"Ultimately, everything comes down to Foxes."
lots of you wanted to see the new and old gods from AMERICAN GODS having a face off/show down.
there were many other great ones, and believe me, you can always write in with ideas on what you'd like to see....neverwear@gaiman.net
for now, go in the comments section and say what you like.
I will let you decide... and perhaps Neil will ring in too. Quiche? thoughts?
also with the Batman prize, i threw in a BEOWULF swag hat from Paramount Pictures.
this post is getting way too long.
thanks so much for let me know what you think.