I am grateful for all the love coming my way this year. all the new chances, all the little seedlings growing from this long year of tending to the proverbial garden. Things are finally looking up for old Liz Lemon. (if you don't know...)
we do have much loot for under $20.00--
thanks to the gorgeous Chris @ Eljay's books, you can buy the Edgar Allan Poe (my Baltimore homeboy) lunchbox that I got for Neil for his birthday via Neverwear.
me in a $12.00 Scary Trousers youth tee.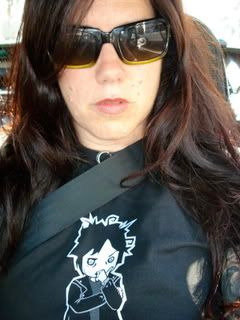 Here's a handmade glitter salvaged comic book magnet:
and another one: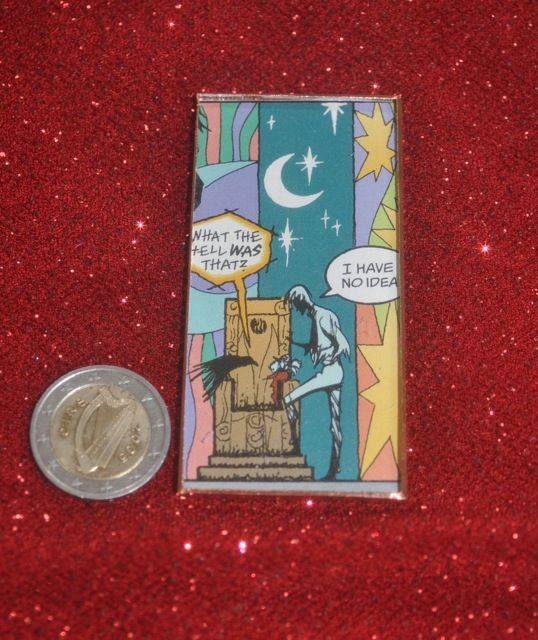 more are being born every day! VAMPI! this one is a mirror.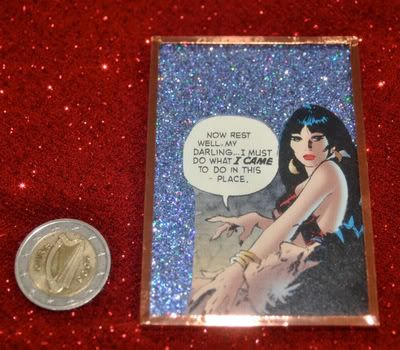 I have made jewelry for princesses (Tori Amos) and for queens (Madonna). My glittery beaded gemstone jewelry put me through college, in fact.
I weave affection and the best of intentions into each individual bracelet, as well as glass sead beads from Japan and Svarowski Austrian crystals. This is a fresh-water pearl bracelet, said to boost self-esteem. it will be free shipping! Come on! We like that. Yes, oh yes, we do. If you are out of the USA, drop me a line here or via twitter (@neverwear)--i'll make it work!

Click here for mermaid earrings.
here is a photo of Neil and me at Balticon, if you look carefully, I am wearing one of my creations...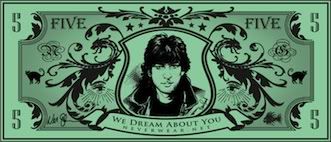 any order over this weekend will get a Neilhimself five dollar bill sticker with a code for slicing a fiver off anything next order. Believe me, loads of good things coming this way soon. and don't forget that print orders will get this kitty-cat poster too. I don't have many of these, so when they are gone, they are gone!

I have to say, I have never gone for what they call Black Friday sales. It's just not my thing. However, I am a small business owner, and trying to make it all happen in this retail season. So, stick with me on this, i am trying some new things out. any and all feedback welcome! do it public @neverwear on twitter or private via email (neverwear@gaiman.net) I will listen to it all!