Christopher Salmon is working on a beautiful animated adaptation of Neil Gaiman's short story,
The Price.
We did a successful Kickstarter program and Christopher details in the latest production blog,
(see HERE)
some of the set-backs he has been facing, but ends with a great inspiration that he gets from JAWS--"gonna need a bigger boat..." Christopher and I went to Neil's spooky mansion last October to do a little filming on the project, so that the scenics would be accurate. We lucked out on production value with a crane and I got some shots of Christopher way up high, overlooking Neil's house. Looking at the latest from Mr. Salmon's mind,(@Xtopher on twitter) you can see how spot-on the house looks.
for the next week, we are offering an 11"x17" full color poster of the brave cat guarding the land, FREE with any print purchase from Neverwear.

There are 25 versions of prints to choose from, signed, unsigned, etc. We are even bringing back the HOW TO TALK TO GIRLS AT PARTIES for a short time, so plenty to pick from. We are almost out of the David Mack FIRE silkscreens, and the dynamite Jim Lee 100 WORDS. happy hunting! I have also posted the few remaining hand-pulled LAST ANGEL tour posters designed by Craig Thompson of BLANKETS fame.

They are beautiful beautiful beautiful.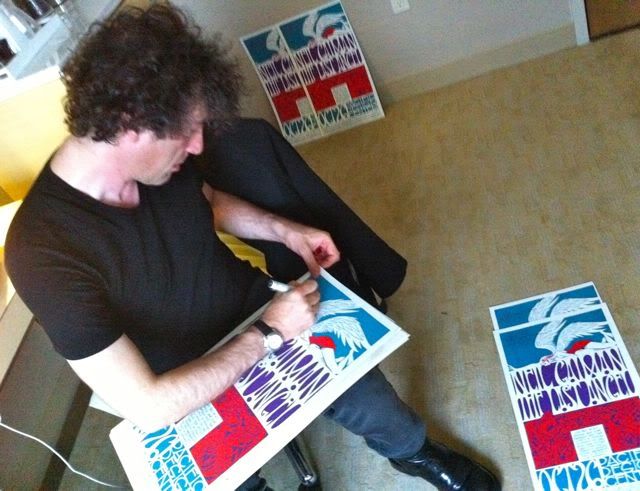 HERE IS WHERE NEIL TALKS ABOUT THESE LOVELY SILKSCREENS.
here Neil holds one of Molly Crabapple's DESERT WINDS:
(if you have ordered a print in the last week & want a Price poster, drop me a line w/your order number: neverwear@Gaiman.net I'll send you one!)
ps. the brave Price kitty-cat looks so much like my Batman, it is uncanny!