Been very busy over here at the treehouse. making magnets and jewelry, and getting everything posted. (wanted to get some new items up before i go to see those rock legends, Aerosmith, tonight at the mighty Staples Center in downtown LA!)
such a sweet and well-behaved little mirror. made with glitter snakeskin paper & the wisdom of Batman to his buddy Superman. Sounds like Supes needed some cheering up!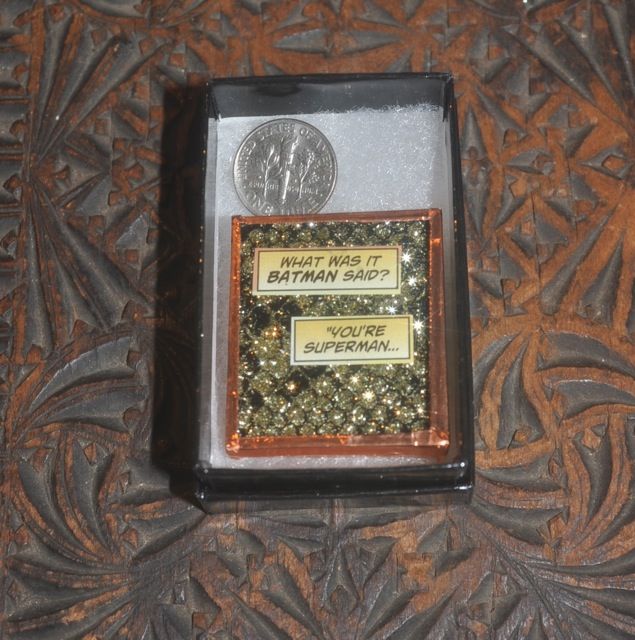 comes in a little teeny black box. made from recycled comic books from my tragic flood. Ok, tragic may be an overstatement. No one was injured, only my feelings were hurt.
if you are trying to order from overseas, contact me via twitter (@neverwear) or via email: Neverwear@gaiman.net --we will set a fair shipping price! A panel from SANDMAN #69 from July 1995 drawn by the flawless Marc Hempel.
ah, Death, you wonderful lady-child. Isn't she most everyone's favorite from the SANDMAN stable of characters?
"You sure you can't read minds?"
"Positive"
"Can you cure cancer?" lime-greeny gold glitter backs these most hopeful of words. I believe we all can read minds and cure cancer, if we try hard enough.
Barnabus is one of my favorites from the Sandman world. He's just about the best dog ever. Definitely a chattier cousin of Cabal.
Again, Todd Klein nails down Neil's dialogue with diamond precision. I mean, really! Lookit!
I loved this story arc so so much. from the Sandman "A Game of You" with the most interesting Wanda. Wanda dreams... dresses for all!
LOBO, you gigantic space caveman, you magnificent douchebag! I love him so much. This is a typical introduction to him. ("Huevos gigante" haha)
By the hammer of Thor!
"Whoesoever holds this hammer, if he be worthy, shall possess the power of Thor." " and what-not" HAHA wish I knew the whole story. ANyone know it?
again, i will say, this gold & black faux snakeskin glitter paper brings out the worst in me, i am very possessive of it and use it oh-so-sparingly.
PS. NO IDEA what comic this came out of. i know it is DEF not Todd Klein lettering. Anyone? Bueller?
thanks for supporting the arts in many ways. You can get to these tiny glass candy bars HERE.
I acquired some new stocking stuffers for the shop. Absinthe soap! Made by little green fairies.
I tried this soap and so many humans were drawn to me, that i decided to order it to share with the world. This soap comes in a beautiful little tin (my tin now holds beads of all types)
I personally have never tried absinthe, but many of the (unnamed) rockstars that i have toured with, have requested me put little sugar cubes in the dressing rooms...do your research, people. Tell me how it is if you've tried it. CLICK FOR SOAP LINK.
What better to store your mints in? A coffin fit for a caterpillar! The King of Caterpillars may be buried in style, once you finish your mints. Look at how many mints though, Rainman. SO MANY!
Free shipping within the US, but overseas customers, if you are buying a tshirt or print, they will pop right in the order. CLICK FOR DEATH MINTS.
more jewelry: a pyrite choker:
Vintage cut rubyglass earrings:
Moss agate and vintage light-amethyst glass sparklers:
Look at all the jewels here.
the new charcoal grey CATS DON'T NEED NAMES tshirts are shipping out this week, the small run that we printed is almost gone, in one week! Get them soon.
ok, loves. time to wind this up. grateful for all your support.