I remember exactly where I was when I read my first Sandman, in 1988.
everything changed for me then, and I went to work in Geppi's Comics Baltimore harbor in as a direct result. (i needed the discount!) Yes, Steve Geppi was my boss.
As in any job I've ever had, I tried to learn everything about the comic book world/history, my big brother always had Creepy and Tales of the Unexpected around, so we were raised on the panel page. Batman and Swamp Thing were my go-to guys. X-men loomed on the horizon. My cute Dad would follow Spiderman in the newspaper and he'd shake his head over MJ's antics, which always cracked us up.
But Sandman? That was a show-stopper.
When I met Neil, 12 years later, while working on the Tori Amos 2002 tour, I was a fan. Tori knew it and teased me regularly. He was such a legend, in our comic book circles, and 13 years later, the whole world has caught on.
We have been helping the good people of the Cartoon Art Museum along to track down some of the original Sandman art to show at their 25th anniversary exhibit. I quote curators Andrew Farago & Ryan Graff (aka Art Overlord)_
We're off to a great start, as we've borrowed most of the first issue and have some promising leads on key pages from other artists, and we're also planning some programming featuring Sam Kieth, Mike Dringenberg...
here are a few shots of what you will see, including some amazing pieces on the way from Neil's private collection.
ORIGINAL McKean! Bachalo! Zulli! Hempel! Amano! Doran! Vess! Dringenberg! Keith! Thompson! McManus! see Todd Klein's lettering up close and personal...and so much more...
I was lucky enough at San Diego Comic Con this year to see the title page original art for Sandman #1 here's a link to my blog, here's the photo of Neil holding it up: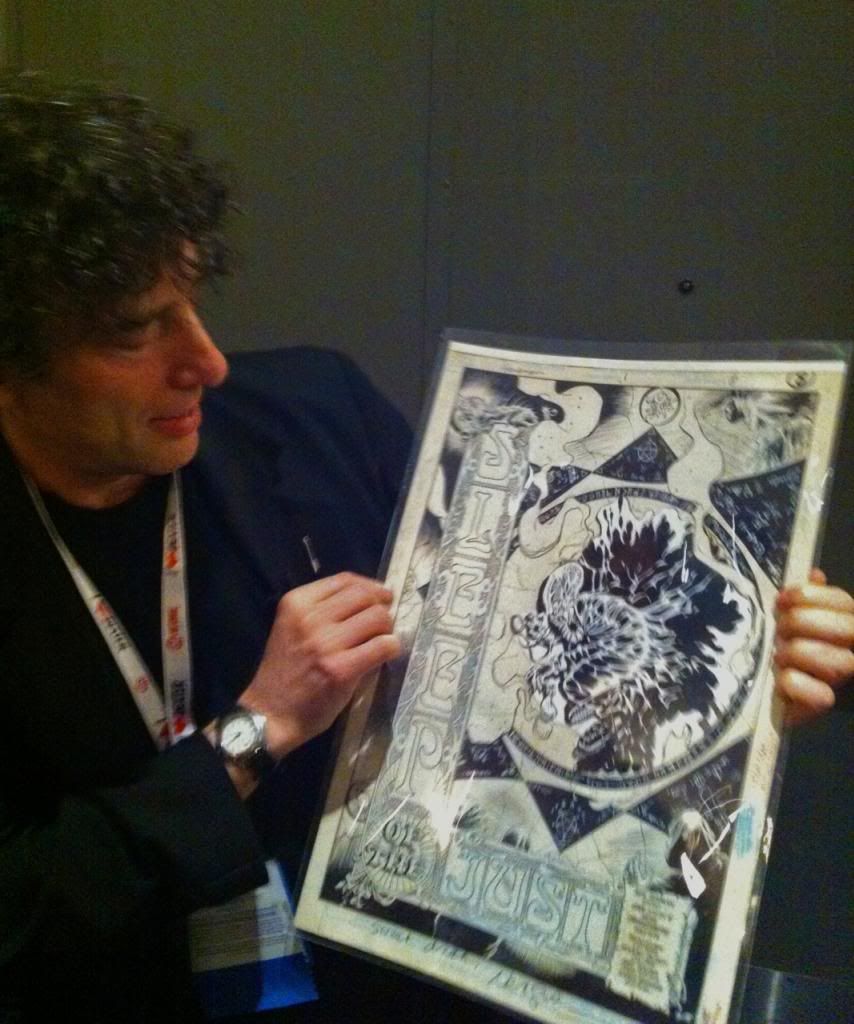 The exhibit is up now, artwork will be rolling and changing, until mid-March 2014. GO! DO!
Cartoon Art Museum 655 Mission Street San Francisco, CA 94105 www.cartoonart.org follow them on twitter: @cartoonart
two other reminders about All Hallow's Read, the give-a-scary-book tradition Neil came up with a few years back.
1. the clever Sean Von Gorman 8" x 10" trick-or treating lil'Neil print is only $18.95 until Saturday night midnight PST, it comes with a SVG bookmark and an Ayesha Rubio skeleton sticker, get one HERE.
2. the Black Phoenix Alchemy Lab has a beautiful graveyard scent holder up for AHR. get yours HERE with more art from Sean. (Because I want one, we will be turning Sean's little Charles Addams tribute into a teeshirt for Neverwear soon, stay tuned for that one.)