After a great year of travel, I am finally staying home for a bit and catching up with the poor little stepchild that is Neverwear.net
Started with the best of intentions at ComicCon 2007, lil' Neverwear got left behind by all the tour buses, coughing up airplane dust-- poor Neverwear was hailing a cab in the pouring rain, trying to keep up with me, while I tried to keep up with Neil Gaiman.
and everyone knows, that man is near impossible to keep up with.
With the help of many, (thanks Jouni & DanGuy & Christopher Salmon!) we are now working (again) toward Neverwear 2.0.
long story short, MANY of the prints/tshirts/products will be retiring.
They may turn up at conventions or in charity auctions.
For now, though, it's time for them to go into hiding. The new pop-up shop I am building doesn't allow for all the rambling products I have now on the current NEVERWEAR site.
in this light, I am offering a coupon for five dollars off anything, good from today, Sat. Nov. 23rd until it expires on Nov. 25th at midnight PST.
the coupon code to use at check-out is: grateful2013
(you will get this Neil-money-sticker in your order.)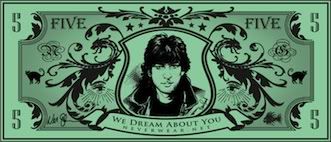 in the meantime, I will be moving all my Kitty treasures: comic book magnets & jewels over to Etsy shortly. Get them now!
speaking of Sandman, I will be attending tonight's showing at Gallery Nucleus...
A Handful of Dust: 25 Years of Sandman
look at this list of artists:
Jason Shawn Alexander Yoshitaka Amano
Gary Amaro MIke Choi Mike Dringenberg Felipe Echevarria Emonic
Tony Guaraldi-Brown Marc Hempel Sam Kieth Teddy Kristiansen David Mack Michael Manomivibul
Dave McKean Jon J. Muth Barron Storey Jill Thompson Jenna Trost
John Watkiss Jonathan Wayshak Grim Wilkins J.H. Williams III Michael Zulli (**aww, poor mister Zed always the last in the alphabet--but first in my heart)
show details: up November 23, 2013 - December 8, 2013 Opening Reception / Nov 23, 7:00PM - 10:00PM (TONIGHT, LA people!!) 210 East Main St Alhambra CA 91801 626.458.7477