...everything in New York ain't always what it seems"
-Grandmaster Flash & the Furious Five
We hit the streets running.
MTV interview w/ Neil, in which I learned quite a bit...
http://moviesblog.mtv.com/2008/10/02/master-storyteller-neil-gaiman-talks-steampunk-and-neverwhere-influence/
I was staying next door the Beauty Bar at the home of my old friend Michael Stewart, part-owner of said bar.
He had Stephin Merritt of Magnetic Fields as his DJ, so i finally got to meet the man. We talked neighborhoods and he spun candy-colored tunes in the glittery room. I have always felt at home there.
Other highlights of the evening, Claudia Gonson, in the flesh, actress Anne BOOBY, and that foxy Peri Lyons, all front & center for the reading. It was the first chapter and hearing Neil zig where he wanted to and zag where he knew he should, made the story that much richer for me. Me and everyone else, I suspect.
Charles and Jill from Comic Book Legal Defense Fund appeared like superheroes in the New York night to vend the Neverwear tees. Thank you so much, you two. A major chunk of profits from the sales will go to the CBLDF.
After the dizzying dinner at Sasabune, where I tried my first (and last) oyster, and was shamed into eating more than i could, I went back to Beauty Bar to meet Charles and we hung out with miss Joey, our lady of e. 14th street.
In the music business, we say a record "drops" on first day, not sure the terminolgy for books, but the Graveyard Book debuted on September 30th, making it a Libra like me. Just look at these beauties:
Neil signs in blood-colored ink, bought on the way to the event: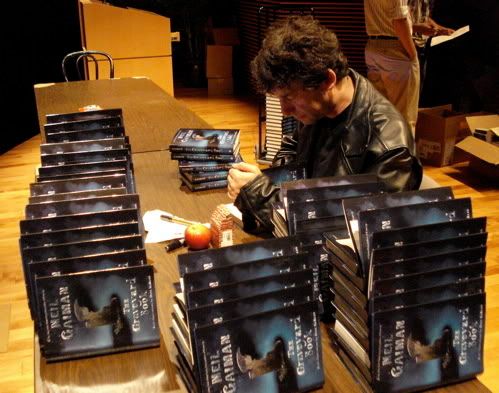 New York sure makes 'em goodlooking, the patient line waiting to get in to reading:
on to the city of brotherly love (anyone, what does this mean?)
Kyle Cassidy, in this small world, turns out to be the photographer for Ego Likeness, my buddies, Steve & Donna. He took this photo of us after our Indian dinner in downtown Philly. We look very happy and full, (from right to left) myself, Gardner Dozois, Michael Swanwick and Mister Neil, as Shelley calls him.
Kyle took this one sneakily and I coveted his fancy camera. Such a Nikon girl, i am.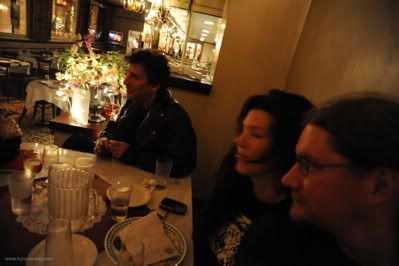 As we touched down to Chicago, we had, bar none, the smoothest landing I have ever had.
here is a view of Chicago from the plane, i love this city:
then my favorite of all, the vintage Tivoli theatre in suburban Chicago, they sure had their Halloween on inside, gravestones and cobwebs, all layered in a fresh popcorn scent, perhaps no better combination for me.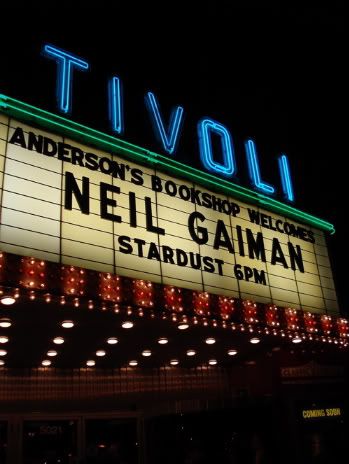 As Neil did his reading each night, the voices he chose became expected and familiar. I listened as the audience became a part of the background, breathing as a unit, laughing together, spellbound. My favorite part though, the Q & A he did nightly, answering the little index card questions that people turned in. I learned so much about his process, the card questions turning out surprises each night. His humor shone through every turn, the man is a steadfast miracle.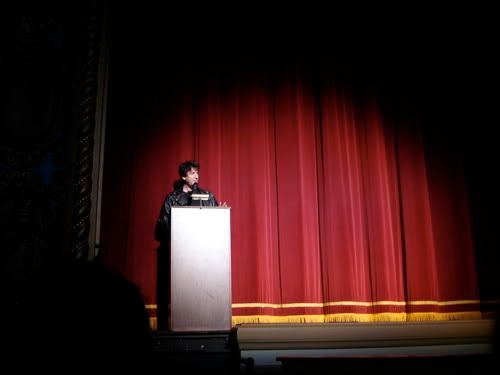 Our girl Elyse took us to dinner in the hotel, Brady our faithful videographer...let's not forget Jill Thompson (how did I not get a photo of this lady?) the Palin/Biden debate went on without us, we tried to watch some recap on the hotel bar TV but the various sports feed drowned it out---hmmph.
and me Drew was in town with the Tina Turner tour, just in time for me to get sick sick sick ...we rented a spectacular sports car to zoom around in. Here he holds open the backlift in his Graveyard Book tee:
we stayed in the James downtown, parking to the tune of 40 bucks a day, more than we rented the car for, ouch.
this hotel had room service for pets though, and a gorgeous red fainting couch which I lounged on, getting through my viral illness.. ...watched HBO's True Blood on the plasma screen, still haven't turned in my verdict in on it but vampires are always watchable... always.
so I was too sick to attend the Beck show at the Aragon, sorry Rabbit. Now I am back in Minneapolis, Quiche is taking good care of me, with her kitten Kali at her side. We will do some photos and post more, tomorrow is the last night of the US Graveyard Book reading tour and we will be there...grateful for this amazing opportunity, thanks so much.