We are running a little holiday spirit special...
When you buy any NEVERWEAR teeshirt:
(like this
GRAVEYARD BOOK babydoll
being modeled by
the amazing
Amanda Palmer
)
you will receive a FREE handmade gemstone
bracelet
, made by me, Kitty...our gift to you.
it is made with glass sead beads from Japan, Svarowski Austrian crystals, garnets from India,
woven with love & magic. I then "clear" the gems by burning sage and whispers, so that it is ready for your own personal imprint.
Garnet has long been thought the stone of passion, worn to stir the blood.
I call this the "phone-ringing-off-the-hook" stone, get ready for some attention!
They are sized to fit the average size wrist (7-7.5") but feel free to drop me a note with special
size needs, I make them-- not robots--- so you can get what you want...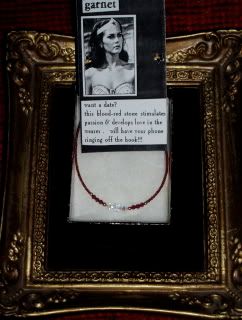 you CAN also purchase them, if you like. They are under "Kitty's Treasures" in the
NEVERWEAR store
.
I will be putting more things up, like treasures from past tours,
other jewels, one-of-a-kind specials, my glass comic-book magnets....check back often...
ALSO!
a FREE Beowulf promo hat (officially licensed promo-not for sale)
with purchases of fifty dollars of Neverwear..while supplies last...