from the imagination of
Camilla d'Errico
comes a dreamy vision of the otherworldly "girls" from Neil Gaiman's HOW TO TALK TO GIRLS AT PARTIES short story which you can read
HERE
:
this is the snippet she illustrated...

"I will never forget that moment, or forget the expression on Stella's face as she watched Vic hurrying away from her. Even in death I shall remember that. Her clothes were in disarray, and there was makeup smudged across her face, and her eyes-
You wouldn't want to make a universe angry.
I bet an angry universe would look at you with eyes like that."


Until midnight tonight (west coast time), this gorgeous full-color print will be sold at $35.00
and then it goes back up to $45.00. limited run of 1200, numbered. 12" x 18" They are at the printers now.
expect them at your door in approx. ten days time...

here is our artist at work...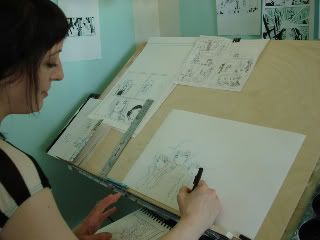 this is a print you can fall in love with, you might take this print out to expensive sushi...
but you will be gazing into the eyes of these lovely ladies...just don't make them angry...

They will be shipped in a bullet-proof shield made of recycled cardboard. Your postal carrier will be intrigued.



We are donating 10% of the poster price to the CBLDF. The Comic Book Legal Defense Fund is out fighting crimes against our important Constitutional rights, so to support them is our pleasure.



Thanks all!

****THIS LIMITED EDITION FULL-COLOR PRINT WILL SELL OUT QUICKLY.
(SAVE TEN BUCKS IF YOU ORDER TODAY UNTIL MIDNIGHT WEST COAST TIME--THEN THEY GO BACK UP TO $45.00)
CLICK NEVERWEAR TO ORDER YOURS.
we dream about you....