as I was typing this Neverwear update, the news broke about Adam Yauch, aka MCA's passing. I knew he was battling cancer, but I honestly believed he had beaten it, whatever that really means. I just couldn't imagine this wonderful being hosting an invader that wouldn't love and try to help him, rather than eat away at him. Adam, a founding member of the Beastie Boys was truly one of the kindest people I have ever met. People say things like that all the time about other people, but he walked the walk of truth. His crusades for animal rights & human rights in Tibet were front page, and he was equally passionate about his love for the Bad Brains. Adam, you true lion, you live on in my heart.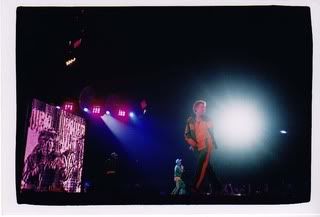 I shot this in...2004, i think. In Adam's honor, I will donate a portion of proceeds from any NEVERWEAR PRINT to the Dalai Lama's organization to work towards protecting human rights for all. Also watching for what the family announces as their preferred organization. stay tuned.
Not so easy to segue into current events, but I know life is a cycle, death is the other revolution of that cycle.
News of the David Mack prints? They should arrive here on Monday. They took a little longer than we hoped, but man, look at these blue variants. They arrived this week, they will not be for sale here, but they will be at CBLDF as soon as I get them there. Last week I happily sent a nice big donation to those fighters of free speech. Only 100 of these blue alternate prints were made and they are hauntingly beautiful. They will go out to Neil, to David, to Burton, to CBLDF. #special!
I want to thank my dynamite silkscreener, Mr. Brian Rise, who is working on his new website for Rise Ink (as am i, garrrh, it takes sooo long). If you have a print job for him, contact me, and I will give you his info.
Here is my living room floor, I am prepping each order, so that as SOON as the prints arrive from Austin, I can just place them lovingly into their very-sturdy beds. I chose the recycled material envelopes which will sandwich a piece of thick cardboard and a plasticine cover for these truly gorgeous silkscreens. They are each hand-numbered and people were assigned their print number in order of arrival. You know I love a system.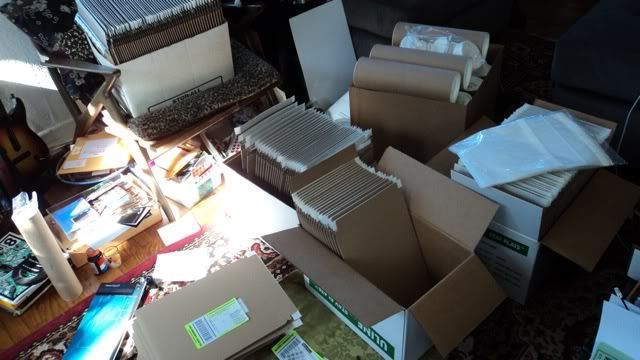 Before Husband left on his tour to South America (with Noel Gallagher of Oasis--meow!) he helped to prep a batch of these. How I wish he were home to do the other half...:(
as an extra thank-you for everyone's patience, I had stickers printed up with the original artwork for Burton's tattoo from David, the colors that Mr. Mack first laid down. I loved the original, but in the case of hand-done silkscreen, I wanted to keep the print affordable, so I simplified the color scheme with Brian (& David's blessing) in order to have it stay within reach of most budgets. Every package will go out with this sticker (& a Neil bill which is also a sticker w/a discount code on the back!)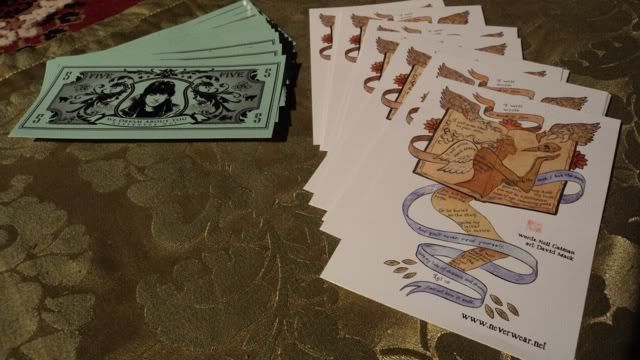 now, a brief aside on costs: Sometimes people do complain about the cost of shipping. I will say, I often do not break even with the lengths I go to for good packaging. I haven't raised my flate rate ship price for four years, while the post office has had 4 maybe, 5 rate hikes.. Flat rate means, if you order 20 things, it is still one price. Last week I sent a package to Germany which cost me $50.oo over my ship charge to send. That's okay! This guy pooled his order with friends. Socialist shipping! I love it.
To run a business costs much more than at first glance. Storage for the merchandise, the tubes, envelopes, bags, labels, ink costs, gas for the shipping trips, the postage itself, the taxes, the mistakes (haha, yes i have had many!), and I don't have any employees, so it's all me. (My time? you KNOW it's priceless) I try to appease and explain this to the people upset that things cost too much. I am watching with fascination the Amanda Kickstarter explosion and I know that even with her offering for ONE DOLLAR great reward, people have found things to disparage. Kyle Cassidy put up a kick ass blog last night, if you haven't see, click HERE. (and Amanda's amazing run at the record industry standard is: HERE. please, go & back she-who-roars.
now a few links that i wanted to throw out there before I forget. Neil reads the tattoo poem.(gods, he's good)
SEE David Mack's MAKING OF PHOTOS HERE.
I will put up more photos when Brian sends them, and you should all (ok, almost all) have your tracking confirmations, don't be puzzled if there is no record yet at the post office. There will be! It's all a system. Pepper out!