This ever-lovin' Texas-style heat has made it difficult to get much done, we start things that we don't seem to finish. The cats lay around completely flat on the hardwood floors, trying to cool their fur. Not going to whine, but honestly, Drew has been out in NYC on a video shoot and I thought I would get a great deal more done while he was gone...trying to salvage what i can as the temperatures cool with the nightfall.
Remember last post where I said i was turning down all offers of work--well, i had to take this one, it's only a few days, but it's a couple big festivals, with Slipknot & Deftones & Dethklok.
I leave on Thursday, and will be home next week-- so I wanted to post some of the things that have shown up in the Neil mailbox...
a school room put together a gorgeous book of Neil's Cinnamon tale: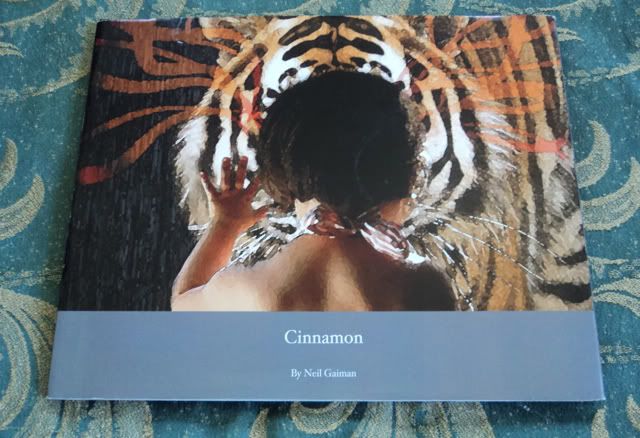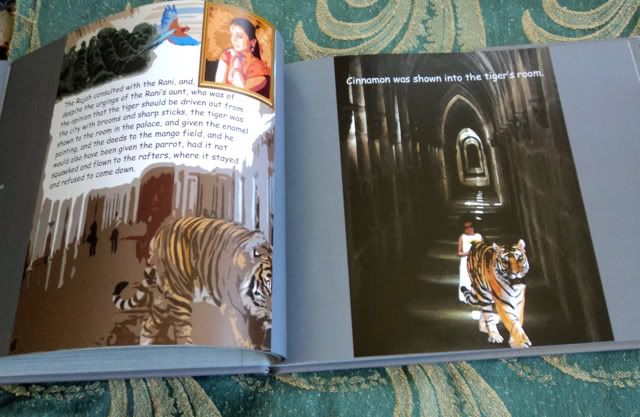 The fine people at Projekt sent Neil a big batch of new music:
Several books arrived, some with requests for blurbs (sadly, we cannot add anything more to the Boss' schedule, he is working under so many deadlines as it is) and many with a wish to offer him their gratitude in being a part of their inspiration process. We have a giant pile of books, ever-growing.
magic...
you can order this gorgeous book from SofaWolfPress, HERE.
from The Chinese Science Fiction World in Chengdu, these treasures: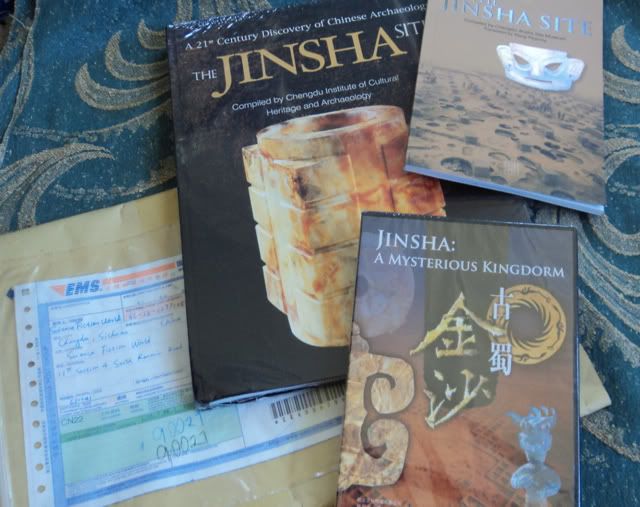 and...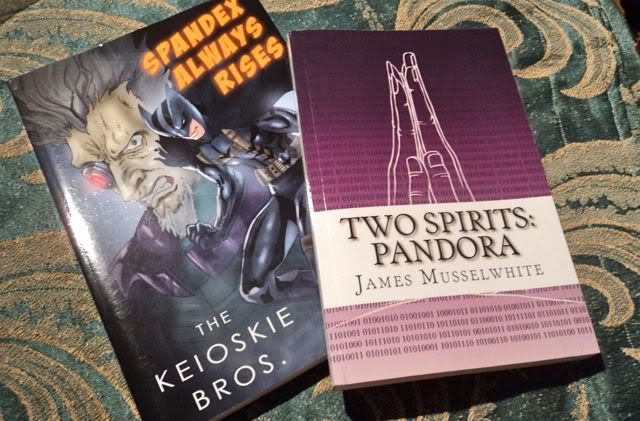 This sweet author included one for me, an excellent read.
and...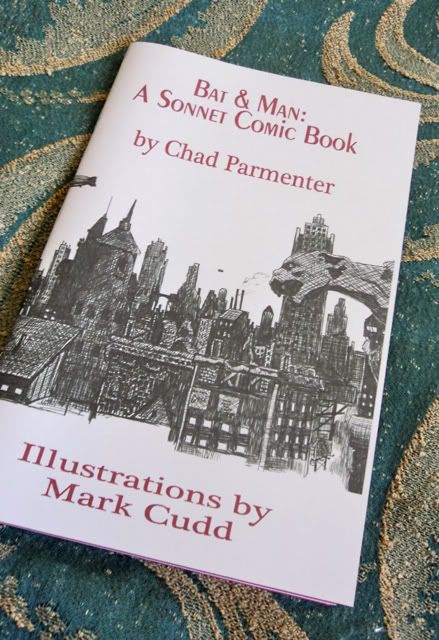 and...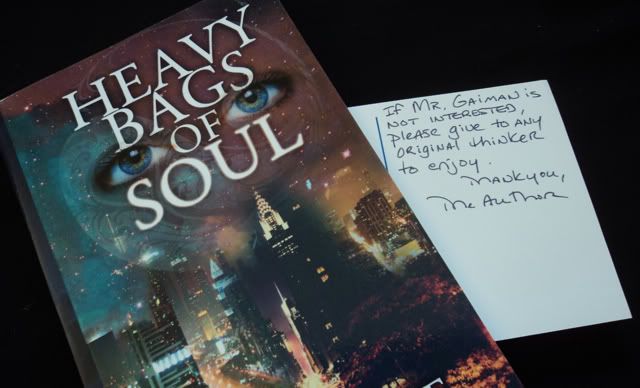 and.. this one I honestly couldn't put down, so many slices of history from the British Isles...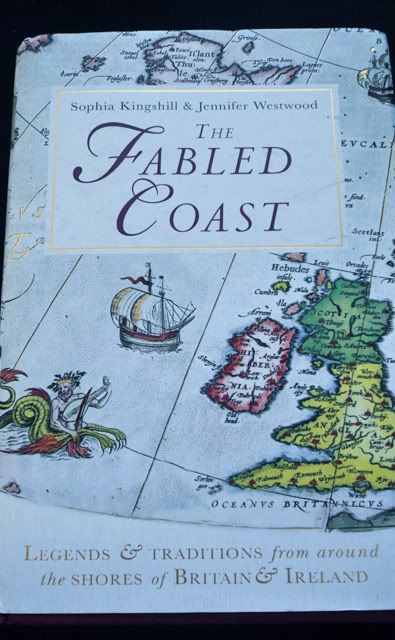 I am always happy when comics come in the mail: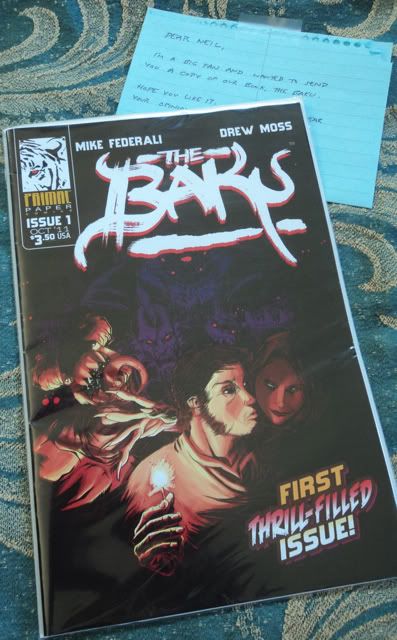 this came in from the artist, Walter Sickert. He has work in the travelling AFP art show, to see some of the artists: Click here. (& although as is clear on the envelope, "do not bend" was ignored, and it got a bit munged up in the delivery. Although I believe in the power of suggestion, a sturdier package may have helped.)
here's a hot print from Moose Kleenex: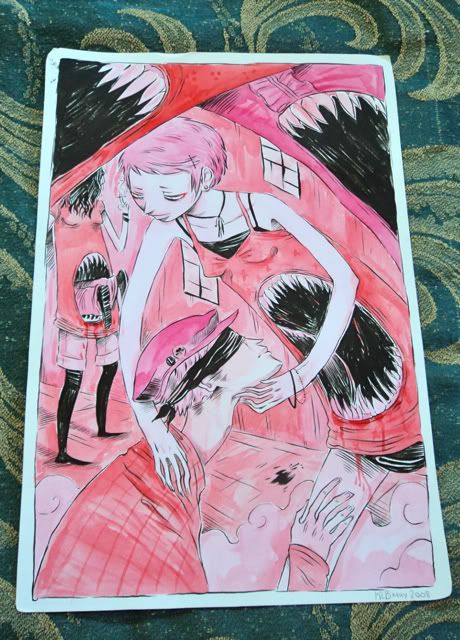 this was one of my favorite arrivals from last batch, and while Neil was in town last, he wrote out his wish, that will be folded into origami and turned into a book, and the proceeds raised will go to This Star Won't Go Out Foundation.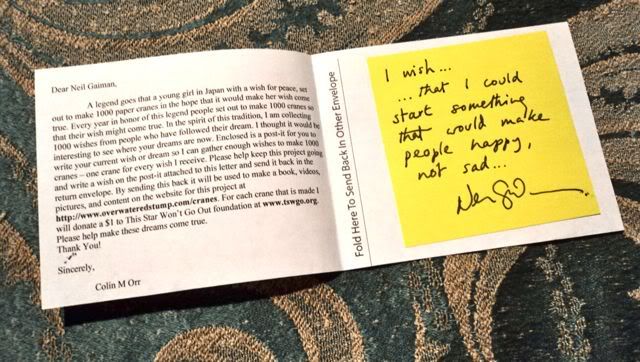 oh wait, did i say that was my favorite? actually THIS was my favorite, and it came via Neil's post box for me, from Gillian Anderson, aka X-Files Scully. What a class act!
and here's one I bet Boss may give to QuicheMeDeadly, a present from WhiskeyGreased on the Royal City Roller Girls: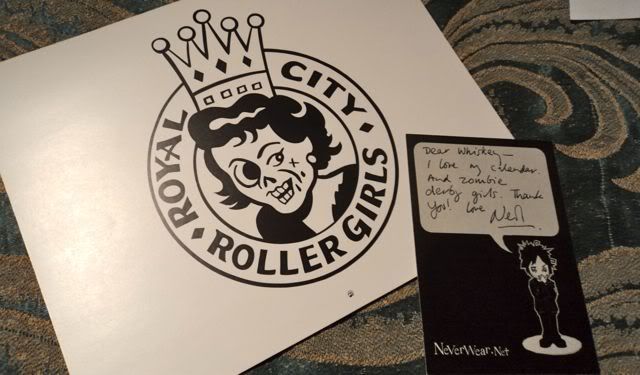 As we finish up on the new website, we are having a little sale on some of the tshirts-- we have dropped the price on Anansi Boys tees & the Super Cabal tees to $10.00 each and the Scary Trousers tees (both youth sizes and adult sizes) to $12.00 each- you can barely see a movie for that!
**click here to see all the shirts!
Here is Drew flashing his SuperCabal tee, I shot this while we were at mister Allan Amato's studio.
so this is me outta here, stay tuned!