On the plane with no wireless so I am tapping out my story and will post when I get back home to LA. Neil put loads of new (new to me) music on my coiny jumpdrive. I am literally bopping in my airplane seat.
It was a magnificent trip to Boston, met up with the Blackberry team, who I became great buddies with. A global pack, Sweden, Australia, Hungary & the good ol' United Kingdom.. I have an accent addiction. I was indulging my accent-spotting & Neil won a bet with me, now I know the posh Aussie accent, a new one to me, haha. see more about the #KeepMoving project HERE.
After Boston, we hung out all week at Neil's haunted house, it snowed, it was the best. Did a little more filming and then he began to write.
I've read two of the stories and they are truly charming. Stay tuned to the Blackberry Calendar of Tale hub HERE to find out more, the second phase of the project will be all you artistic types, illustrating the stories--cannot wait!
I returned home to find that the new prints have arrived-- From the brilliantly twisted mind of Roman Dirge, creater of LENORE THE CUTE LITTLE DEAD GIRL, comes one possible scenario to illustrate when Lenore first meets Mr. Neil Gaiman... do sparks fly!
this full color limited edition print is up for the first three days at $25.00. They will go up to $38.00 on Wednesday Feb 13th--just in time for Valentine's Day. They are here and ready to ship now!
This run is capped at 750 and they will go quickly.
Measuring 11" x 17" on a semi-matte creamy 50% recycled paper stock, these are offered unsigned.
Roman and Neil are working together on a feature film of LENORE. This may be one possible outcome of the whole shebang...! **buzzzz (ok, not really)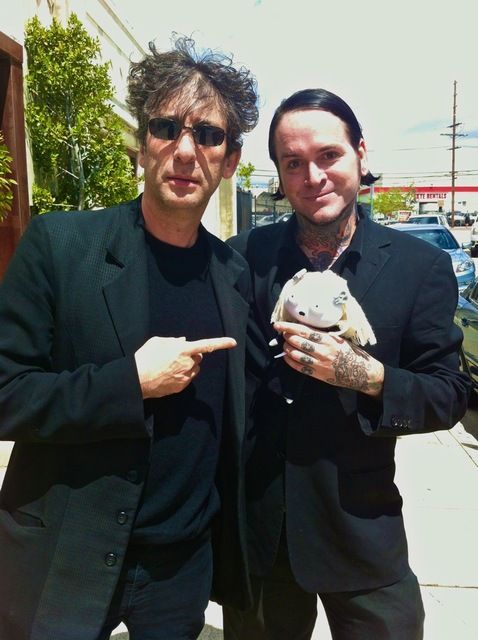 Roman announcing the team-up at Comicon 2012: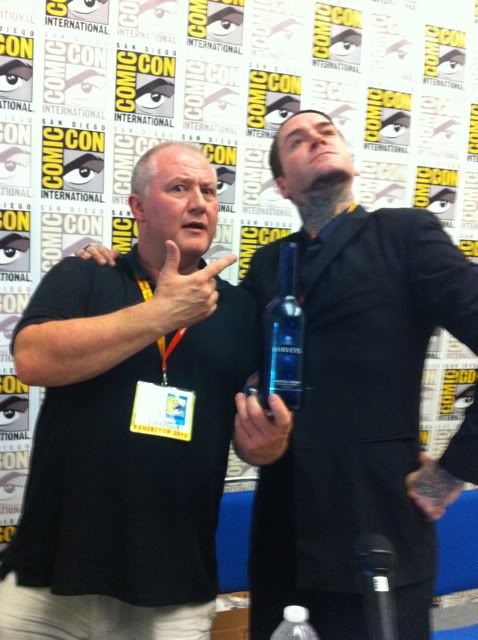 a little postscript:
My ebay auctions got completely derailed from the busy week -so sorry all you lovely bidders, Will put some extras in those packages, which will ship out tomorrow.
Leaving for Australia on the 18th, so it will be very busy between now and then, tying up all the loose ends. (I will be in Brisbane, Sydney, Melbourne, Adelaide and Perth—can't wait to hear the accents in person) Touring with A Perfect Circle this go-round, we are opening for METALLICA.