this year, SDCC fell right in at the end of the Neil Gaiman Last US signing tour in support of his new novel, THE OCEAN AT THE END OF THE LANE. We had two days "off" and then rolled right into the San Diego madness--
the dynamite view from the hotel room:
I had Neil sign his badge, which will end up raising a proper charity some dough:
SuperKate, Amanda's right hand woman, was down to give me her SuperBackUp and boy did I need her. Getting Neil through the crowds on the fly was really scary at times, people there seemed determined to catch up with him, at a dead run if necessary, holding out their pen to have him sign things-- it was pretty astounding to witness.
Supes got me this Batman and Robin con bag that i so DEARLY wished for---LOVE HER!
I barely got on the floor the whole time, but i did see these lil' ghosties:
aliens!
Ted! (& Selina Kyle, of course)
Neil had some press rounds, the Sandman-themed conversations were fascinating. I met many fabulous reporters from the front lines: Seth, Matt, Patrick and Susan-- I will search down their coverage and link to later-
that is JH. Williams III in the vest in the back, what an artist-- can't wait to see the new Sandman issues.
Cons are great for catching up with people you wouldn't normally see, here are two favorites, Jim Lee & Shelly Bond-
these crazy kids who I met at the Denver signing, came all the way to SD to see Boss's panel!
and twice Boss introduced me to people I really really wanted to meet, one is John Romita Jr., one cool NY cat-
and hello...George RR Martin...maker of Jon Snow...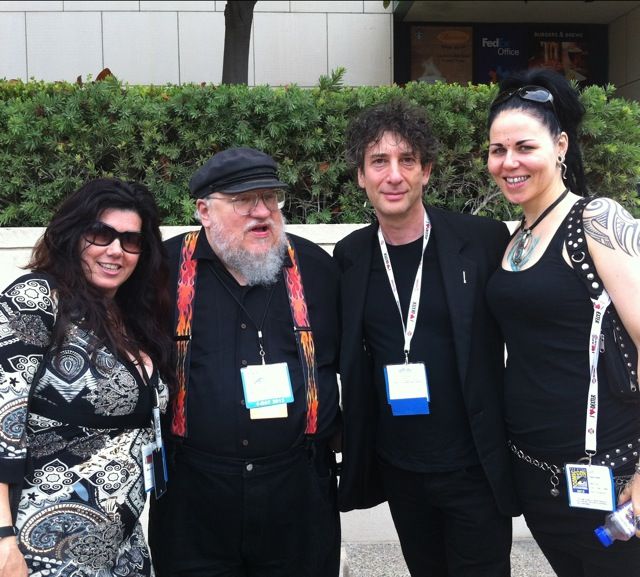 Neil kindly signed loads of David Mack prints for me, stand by while I add them in to the shop.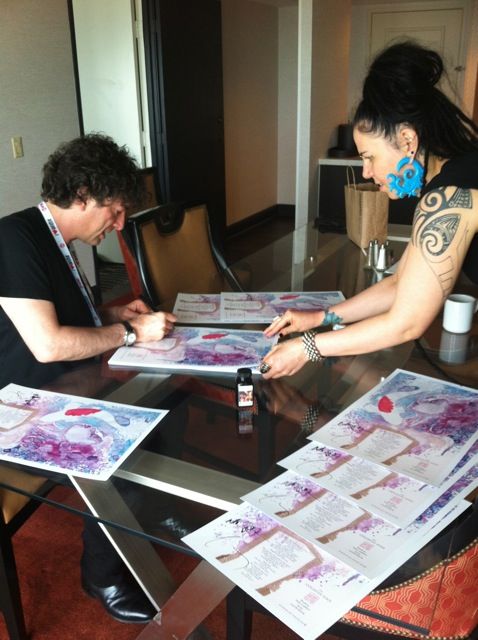 I just saw him tweet that he is going underground with his lady love, so I am going to cut this short and see if he needs anything before he digs in...
stand by for part two, SO many more photos...